Are you pregnant and need help in Detroit, MI? If you live in the Detroit area, Adoption Associates can help! We have caseworkers near you to provide support and services. Every woman and every situation is different – there are options for you and your baby. We are here to help you decide which path is the best one for you to take. All services we provide to you are free of charge.
Read below to see what birth mother, Tanisha, said about Detroit adoption in MI.
Last year I chose adoption for my baby. After finding Adoption Associates online, I made an appointment with a caseworker. I couldn't believe how helpful she was!  She didn't judge me or try to tell me that I couldn't take care of a child. She just listened to me and wanted to make sure I was doing what I thought was best. At times, I felt ashamed for wanting to give my baby up for adoption. But I learned that my decision was brave and loving. I chose to give my baby a great life with great parents. The family I picked had wanted a child for a long time, and they were totally ready to love and take care of my baby. I know it was the best decision for both of us, and Adoption Associates was so supportive.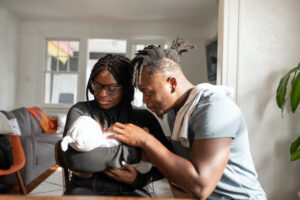 Your caseworker is there for you 24/7 to offer support and answer your questions. Adoption Associates takes care of every detail for you. And, you don't need an attorney – we take care of all of the legal arrangements. Contact us to talk about Detroit adoption in MI at 800-677-2367, text us at 248-919-8094, or send us a message and we'll call you.