You may be feeling like you're not ready emotionally or financially to be a parent. Maybe you have been able to keep your pregnancy a secret. But now what? You have a choice to take your newborn to a safe place. In Michigan, safe surrender is legal and confidential.
If your baby is three days old or less, you have the option to surrender your newborn to an employee of a hospital, fire department, or police station. If you have not yet given birth, you may go to the hospital to deliver your baby safely, and then surrender your baby before leaving the hospital.
You can leave without giving your name. It would help the baby if you gave some basic health information. However, you do not have to answer any questions. It is YOUR choice.
What Happens to Your Baby?
If your baby needs medical attention, he or she will receive it. The professional staff person who accepts the baby will contact an adoption agency. Social workers will place the baby with a qualified, pre-approved adoptive family. There are so many families who want to adopt, and dream of loving and providing for a child. The plan is to make sure your baby has a good home where he or she can grow up healthy and happy.
Maybe it isn't a good time for you to raise a child, but you can make a good choice for you and your baby. You can choose a safe place for your newborn. It's a decision that will help you and your baby now and in the future. It's safe, legal, and confidential.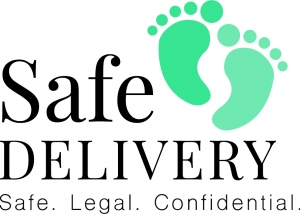 By surrendering your newborn, you are releasing your newborn to a child placing agency to be placed for adoption.
You have 28 days after surrendering your newborn to petition the court to regain custody.
After the 28 days end, there will be a hearing to terminate your parental rights. There will be a public notice of this hearing, however, the notice will be anonymous and will not contain your name or any identifying information, even if known. You will not receive personal notice of the hearing.
Any information that you choose to provide to professional staff is strictly confidential.
7 Steps for Social Workers/Adoption Professionals to a successful Safe Delivery Surrender:
In Order to be Surrendered, the Baby:
Make sure the mother understands
the surrender is permanent
and the baby will be placed for adoption.
Offer her the opportunity to talk with the adoption agency.
Specifically ask her to identify herself. She may decline, but she must be asked.
Ask her to sign the
Voluntary Release for Adoption of a Surrendered Newborn by Parent
(DHS 4820)
.
She may decline
, but she must be asked.
Encourage her to provide medical background information on the
Voluntary Medical Background Form for a Surrendered Newborn
(
DHS 4819
). She may decline, but she must be encouraged to provide information.
If the mother doesn't write in the requested information herself, but provides it orally, document the information and note that it was provided to you verbally.
Specifically
ask her to identify the father
of the baby.
She may decline
or may not know who he is, but she must be asked.
If she provides the non-surrendering parent's name, he will be notified.
If unknown, the agency must make reasonable efforts to locate and notify him.
Contact a
licensed adoption agency
for placement of the baby.
Adoption Associates is experienced in all aspects of Safe Delivery and can be reached 24/7 by calling 616-667-0677
Documentation the Hospital Social Worker Needs to Provide to the Adoption Agency:
In the space for Emergency Service Provider Observations DOCUMENT: