November is national adoption awareness month, when adoptive families are honored and other families are invited to learn more about adoption.
Sarah Jaeger of The CW46 WBSF had the opportunity to sit-down with Jonathan and Amber a local family that has adopted four times, along with Jennifer Jaworski a representative of Adoption Associates an agency in Saginaw to learn more about the process.
Click here  to watch the interview.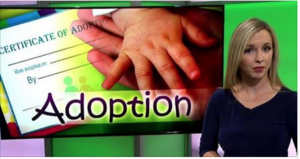 Adoption Associates is a statewide adoption agency with offices in Jenison, Lansing, and Farmington Hills.